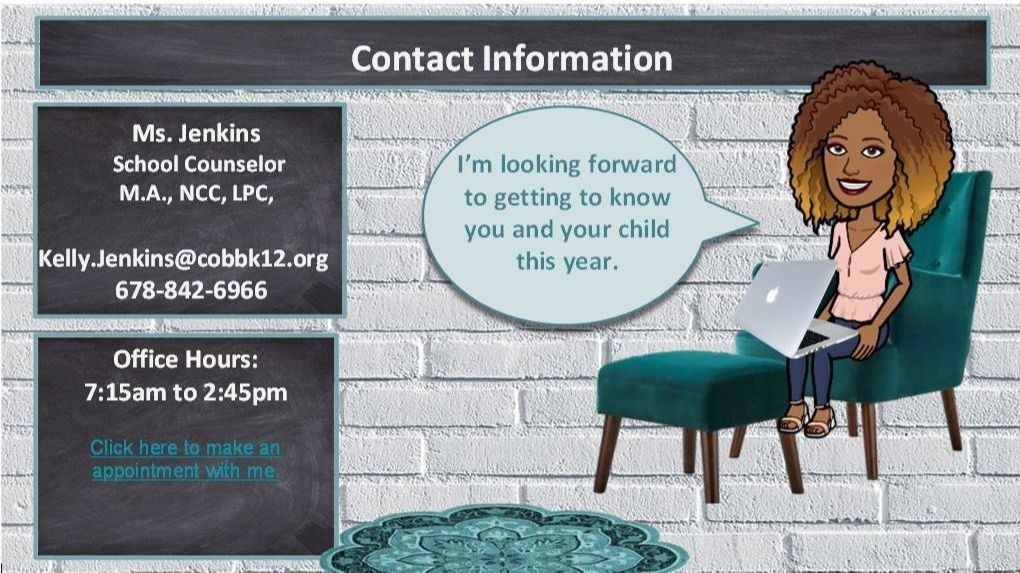 Contact
Ms. Kelly Jenkins to make an appointment
678-842-6966 ext. 038
---
How a student can talk to the Counselor
Students can self-refer to see the counselor
Parents can refer their child to the counselor
Teacher or administrator request
Counselor Invitation
---
Vision: Empowering students for success.
Mission: The mission of the Milford Elementary School Counseling Program is to deliver a comprehensive and data-driven program that promotes academic achievement, interpersonal skills, and career development for all students.
---
Beliefs
All students are capable of success.
The counselor, staff, and parents work together to provide a safe, positive environment where all students feel a sense of belonging and connectedness.
Multiculturalism is respected and valued.
All students should have access to a comprehensive school counseling program to address the academic, career, and interpersonal development.
The counseling program uses data to plan intentional guidance activities.
---
Goals
Integrate a Growth Mindset through lessons that promote skill development in the counseling domains.
Support parent engagement to enhance student achievement.
Foster a sense of belonging among students, staff, and parents.
---
Philosophy
The school counselor will:
Maintain a collaborative partnership with all stakeholders including parents/guardians, school personnel, and community members, as well as student advocates to support student success.
Abide by the standards set by the American School Counselor Association National Model, as well as by the professional ethics of guidance and counseling.
Design, implement and evaluate the school counseling program in conjunction with the school administrators and in alignment with the district strategic plan.
Implement developmentally appropriate counseling program for all students in grades K-5 and be aligned with the academic, career, and interpersonal domains of school counseling.
---
Services
Classroom Guidance- allows the counselor to meet with the entire class and share lessons on topics such as: bullying, friendship skills, conflict resolution, problem-solving, academic success, career readiness, and growth mindset.
Individual Counseling- The counselor is available to talk with a student privately about specific concerns or problems.
Small Groups- The counselor creates groups to address the common needs of students to further their academic success.
Parent Conferences- The counselor is available to meet with parents as needed.
RTI- The counselor is a member of the RTI team.
Crisis Management
If you have a crisis and need immediate help, please click below for services or you may also call 988 or text 988:
National Suicide Prevention Lifeline
Georgia Crisis and Access Line
Parent Resources
Talking to Children About COVID
Helping Children Cope With Changes Resulting from COVID-19
Food Pantry Application (English)