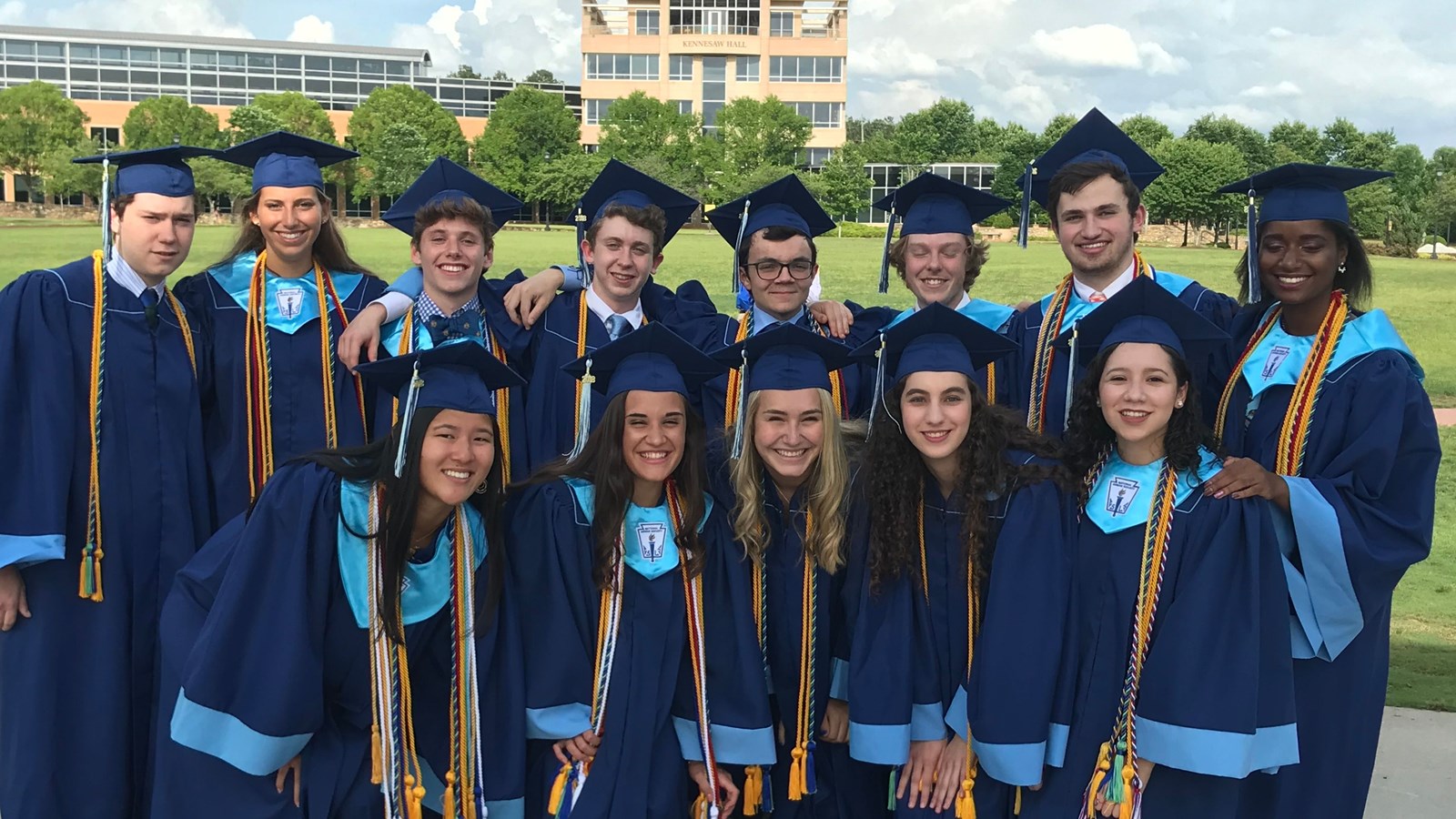 The Globalization Academy's 1st Graduating Class!
Auburn University

Clemson University

College of William and Mary

Elon University

Florida State University

George Washington University

Georgetown University

Georgia Southern University

Georgia State University

Georgia Tech

Kennesaw State University

Northeastern University
University of Alabama

University of Florida

University of Georgia

University of Kentucky

University of South Carolina

University of Tennessee

University of Virginia
Globalization refers to the changes in the world where we are moving away from self-contained countries and toward a more integrated world. Globalization of business is the change in a business from a company associated with a single country to one that operates in multiple countries.
We want you to graduate from high school with a full understanding of the historical, social, economic, scientific, and technological components of the global age. To achieve this, you must be willing to ask questions, share insights, study, embrace challenge, and to give your time and energy to our campus and community. In return, you will graduate prepared for the finest universities and with the critical international understandings needed to engage and lead on a global level.
Globalization Academy
9th Grade
10th Grade
11th Grade
12th Grade
Honors 9th Literature
Honors World Lit
AP Lang/American Lit
AP Literature
Algebra I (or higher)
Geometry
Algebra II
Pre-Calculus
Biology

(H or On Level)

Chemistry (H or On Level)
Physics

(H or On Level)

Senior Science
AP Human Geography
AP World History
AP US History
AP Government/AP Macro or Micro Econ

4 years of a World Language (8th grade HS credit for World Language counts toward the 4 years)

Elective
Health/Fitness
AP Seminar
AP Research
*Required courses in bold
Globalization Academy students have the potential to earn both AP Capstone Diploma Seal and GaDOE's International Skills Diploma Seal. Required courses for the Globalization Academy meet both Diploma Seal course requirements. Click on both links to read about the additional criteria for these Diploma Seals.
Note: Students may take 4 years of the same world language or take two years of two different languages. French and Spanish are offered through the AP level.
*Students are encouraged to take:
AP Psychology as an additional class during 11th or 12th grade
AP Environmental as their Senior Science
Current Issues; however, this will require you to "double up" on Social Studies.
ALL Academy students are required to complete a Capstone Project, a production of an original piece of work. Globalization Academy students will complete their capstone through AP Seminar and AP Research.
Globalization students will be expected to complete a minimum of 120 hours of community service over the 4 years of the program.
Globalization Academy students will have the opportunity for study/travel at least once during their high school career.
---
Application
Globalization Academy Application
Teacher Rec Form- Applicants must fill out the Applicant Information portion of the recommendation form PRIOR to emailing the form to your teacher. Have your teacher email the completed form to Lindsay.Barnette@cobbk12.org.