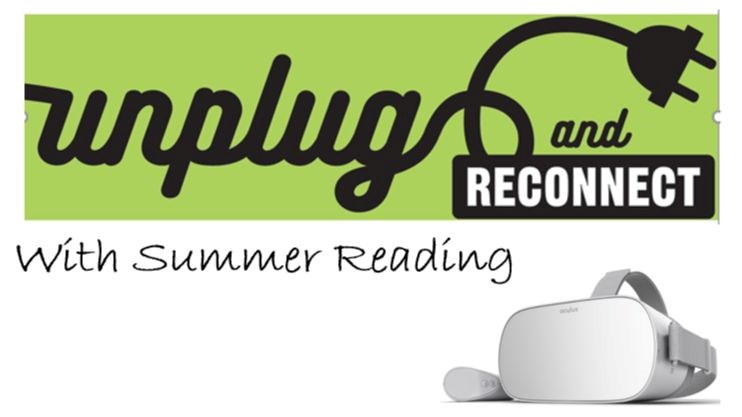 Rising 8th Grade Summer Reading Assignment
Slide 1: Unplug and reconnect with summer reading
Slide 2: And win... oculus prime
Slide 3: Unplug and reconnect poster:
2022 Summer Reading Assignments
6th Grade Choose 1:
Ghost (Jason Reynolds)
The Iron Trail (Holly Black & Cassandra Clare)
Theodore Boone: The Kid Lawyer (John Grisham)
Words on Fire (Jennifer Neilson)
7th Grade Choose 1:
The Chronicles of Narnia: The Lion, The Witch, & The Wardrobe (C.S Lewis)
Framed (J. Poni)
The War That Saved My Life (K. Bradley)
Eighth Day (D. Salerni)
8th Grade Choose 1:
Any books by Alan Gratz
1st Book Tristan Strong Series (Kwame Mbalia)
1st Book Last Day on Mars Series ( L. Ruby)
1st Book Chains Series (L. Anderson)
Slide 4: Summer reading using Beanstack
Slide 5: Log into... Beanstack
Student ID
4 Digit Bday
(monthday, i.e 1015 is October 15th)
Slide 6: Where do I find Beanstack
Beanstack has a single sign on with CLEVER. OR....
Slide 7: Summer Reading Challenge
2022 Beanstack Summer Reading Challenge (Cobb)
Jun 1, 2022 - Jul 31, 2022
Slide 8: Cobb County Public Library
This summer, make a slash and dive into a great book! Log the minutes you read to earn badges.
Make sure to connect your school account to your Cobb County Public Library Beanstack account by clicking on the gear icon in the top right and choosing "Link Account". Ask a parent for help if you need it!
Slide 9: For every BADGE completed a ticket in your name will be entered into the drawing.
Slide 10: Complete the steps below. For each book completed, you get a ticket entered into the Oculus Prime contest!
For each book read, you must enter the Title and Author.
Complete your Badge.
Write a review.
Log your minutes