Volleyball Coaches from Hillgrove and Kell Win August Coach of the Month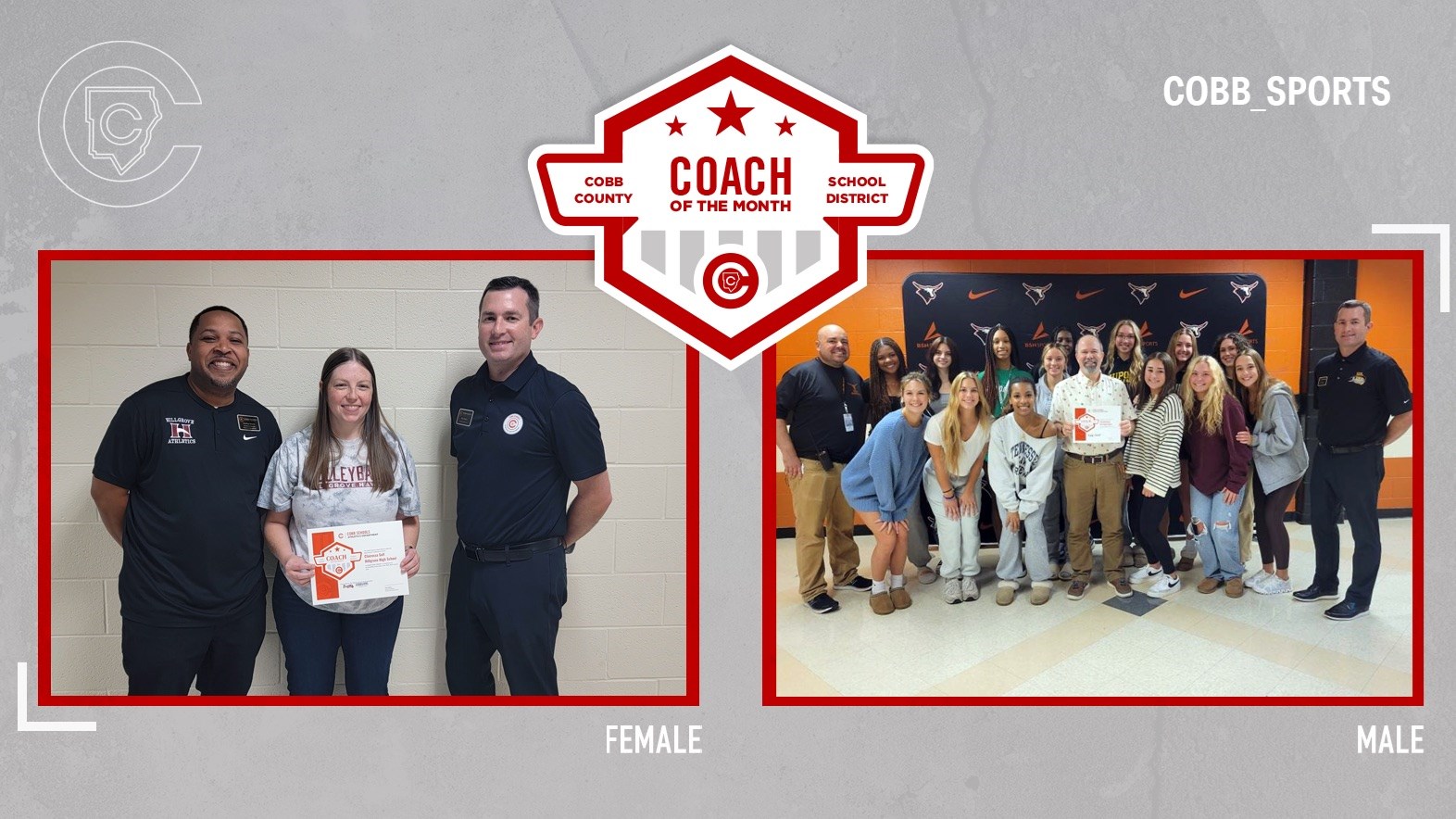 The Cobb Schools' Athletic Department has selected the latest Coach of the Month (COM) winners. The COM award highlights a female and a male coach doing exceptional work in the District.
In conjunction with the Atlanta Braves and Good Game Atlanta, the winners receive a complimentary one-night stay at Aloft Atlanta at the Battery and dinner from Good Game Atlanta.
"This is a small token of our appreciation for their efforts both on and off the court," said Cobb's Director of Athletics, Don Baker. "Coaches teach a full day, and their days are only half-over when the bell rings at 3:30. They continue to work with our student-athletes for hours each week, often at the expense of their own spouses and children. We believe we have the best coaches in the state and want to celebrate them as much as possible!"
The first winners for 2023-24 school year are volleyball coaches from Hillgrove and Kell. Clairessa Self is the Hawks' coach and Joe Auriemma coaches the Lady Longhorns.
Clairessa Self, Hillgrove, Volleyball
A 14-year teaching and coaching veteran, Coach Self has been at Hillgrove for 13 years. Her efforts in the classroom and on the court are selfless, and she does a great job at everything she does. The Lady Hawks are currently 28-6 Overall, 4-0 Region, and went on 11-game and 9-game win streaks so far throughout their strong 2023 season. They are ranked #1 in 7A by MaxPreps and #3 in the state.
"I am incredibly appreciative and humbled to receive this award especially considering how competitive our county is in volleyball," said Coach Self. "Receiving Coach of the Month is honestly a reflection of how hard the coaching staff and players are working to achieve our goals. We also wouldn't be here without all of the players that have come before and set the foundation for what we continue to build upon this season."
"Coach Self is a dynamic HAWK," said Hillgrove Athletic Director Jonathan Brown. "She works hard to ensure her student athletes compete at a high level in the classroom and on the court. She helps them develop leadership skills off the court while doing team activities and book studies. You will find Coach Self in the gym sweeping the floor preparing for practice and in her classroom before the school day begins tutoring students in math."
"The bond that this team has goes with their theme of FAMILY. This approach has paid off with an amazing start of the season," said AD Brown proudly.
"We love having her at Hillgrove," agreed Hawk Principal Angela Stewart. "She is organized, and she will jump in to do whatever needs to be done. Coach Self is humble about her work and her efforts, and she does not like the limelight. She wants all lights to shine on her students and student-athletes. Although she tends to shy away from accolades, she deserves all of them. She is a true asset to our school."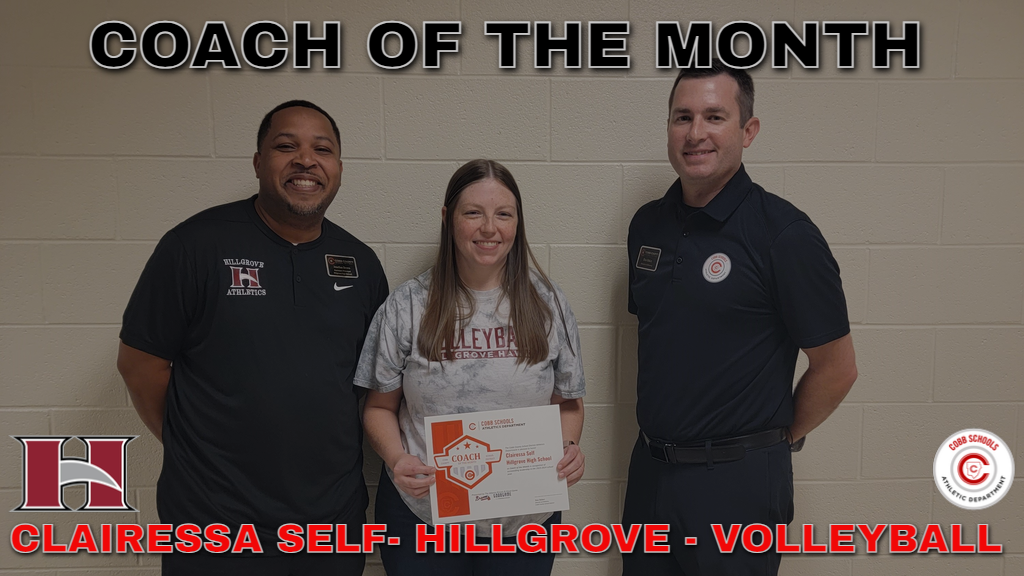 Joe Auriemma, Kell, Volleyball
The Lady Longhorns are 30-8 overall, 6-0 in Region 6-5A, and ranked #2 in 5A. On top of the great job Coach Auriemma has done with his team on the court, he is also the primary activity driver, helps coordinate transportation, and runs the region for volleyball. His day begins early and runs late, but he gives 100% for his players and his students.
"He does a fantastic job of playing all of his team throughout non-region play," said Longhorn Athletic Director Jeff Burch. "This strategy has helped them to be able to deal with injuries and missed games without missing a beat this season."
"It's such a great honor being selected Coach of the Month," said Coach Auriemma. "This award is a culmination of the work this team and the teams before it have accomplished. This is not possible without their efforts in building the volleyball program culture we've developed for eight years."
"This year's team has had a great season and are competing at a level that Kell hasn't experienced. It's a special group of kids and this honor would not be possible without them. I appreciate my family, team, coaching staff, booster club, and the administration at Kell for giving me the opportunity to be a part of such a wonderful community," Coach Auriemma concluded gratefully.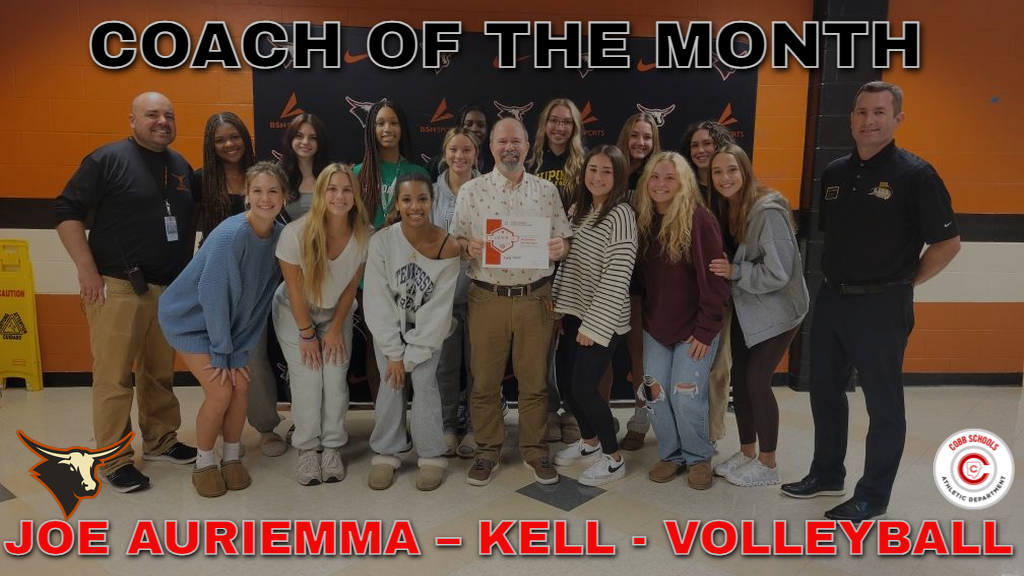 Great job, Coaches Self and Auriemma! We can't wait to see what awaits the Lady Hawks and the Lady Longhorns as the season progresses to the playoffs. With such great schools and administrations behind you, we know both of you will take your teams to new heights!