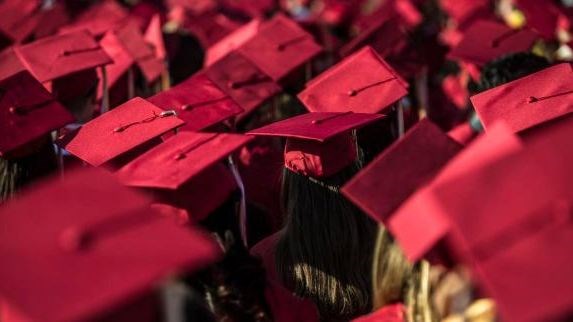 ---
To access the Cobb County School District website page on ALL Graduations, please visit https://www.cobbk12.org/page/6862/graduation-commencement-info.
---
Commencement Information and Schedule of Activities
Friday, May 26, 2023, 9:00 AM
Buccaneer Stadium
Allatoona High School
It is important that you and your family review the following information carefully.
Location of Venue
Buccaneer Stadium is located on the campus of Allatoona High School at 3300 Dallas-Acworth Hwy NW, Acworth, Georgia 30101
Directions
---
Senior Clearance
All fees for lost or damaged textbooks, media materials, parking, classroom instructional equipment, uniforms, or any other materials owed to the school must be cleared by 10:00 AM Wednesday, May 24.
Payments for financial obligations must be made in cash, cashier's check, or money order and taken to the appropriate sponsor or bookkeeper, Maria Surrat, in Admin 1 prior to May 24. No personal checks will be accepted.
All students must be cleared of fines. Students with outstanding fees will be prohibited from participating in the ceremony.
---
Final Exams
Tuesday, May 16, 2023……Periods 3, 4
Wednesday, May 17, 2023………..Periods 1, 2
These are regular school days and exams will be given during the regularly scheduled class time. All seniors are expected to follow their teacher's guidelines for final exams.
---
Commencement Practices
ALL PRACTICES ARE MANDATORY AND ARE A PREREQUISITE FOR PARTICIPATION IN THE COMMENCEMENT CEREMONY. PRACTICES WILL BE CONDUCTED AT THE FOLLOWING TIMES:

Wednesday, May 24, 9:00 AM - 12:00 PM, in Allatoona High School auditorium
Thursday, May 25, 9:00 AM - 12:00 PM, in Buccaneer Stadium
---
Caps and Gowns
Herff Jones distributed caps and gowns on February 28 in room 1406 during all lunches. If you were absent on the pickup day, you may collect your products in Admin 1.
To participate in the ceremony, each student must have a red gown (newest version), and a matching mortarboard and tassel. These items should have been ordered already.
If you have questions concerning the items you have ordered, call Herff Jones directly at (770) 795-1626.
Remove your gown from the packaging prior to commencement and hang it up so the wrinkles will fall out. Use a cool iron to press, if necessary. Do not hem your gown.
---
Commencement Attire
The following dress for graduates is expected for student participation in the ceremony:
Gentlemen

Black pants, black dress shoes, and black socks
White collared dress shirt and a tie

Ladies

Black shoes of a reasonable height
Small jewelry
Solid color dress that is shorter than the gown, or dark dress slacks and a solid blouse.

No flip-flops, tennis shoes, house shoes, slippers, or spike heels will be permitted.
The newest version of caps and gowns must be worn by graduating seniors.
Flowers and large pieces of jewelry are not appropriate with commencement gowns.
Alterations to the mortarboards and gowns will not be permitted. There should be no ornamentation added to the cap and gown other than honor cords and stoles provided by the school.
Mortarboards are to be placed on the top of the head so that the mortarboard is flat on top. Bobby pins are suggested to hold the cap in place. Tassels are to be worn on the RIGHT side of the mortarboard during the ceremony.
Only medals and cords awarded by the school will be worn. Honor Societies will give cords and/or stoles directly to students. Cords for honor graduates and community service medals will be given to students on Wednesday, May 24.
Seniors who have enlisted in a branch of the United States Armed Forces will be allowed to wear a military sash or button/pin designating the enlisted branch. The sash or button/pin must be provided by the specific branch of service.
---
Day of Commencement
Students must arrive on campus between 7:15 and 7:30 AM.
Friday, May 26, 9:00 AM – Buccaneer Stadium at Allatoona High School
Students need to arrive at Allatoona High School and park in the student parking lot behind the band tower. You will enter the building by the cafeteria and report to the English hallway to meet your homeroom advisors and prepare for the ceremony.
Stadium gates will open at 8:00 AM (60 minutes prior to the start of the ceremony) for handicapped guests and those that need special assistance. Gates will open at 8:15 AM for general admission. Tickets are required for all people entering, regardless of age. (Note: Children and babies do need a ticket. Strollers are discouraged.) Balloons and signs are not permitted in the venue.
Following the ceremony, graduates will immediately proceed to the front of the school for the cap toss and then to the auxiliary gymnasium to pick up their personal belongings and their diploma.
---
Conduct of Graduates and Guests
Behavior at the ceremony and practices must be exemplary. Restitution for any damage to the venue or district property will be the responsibility of the graduate or guest who causes said damage.
Commencement is an optional, dignified, solemn ceremony designed to honor all graduates in the Class of 2023. No individual has the right to disrupt this event.
Any seniors causing a disturbance or in any way conducting themselves inappropriately during the ceremony will be removed and will not receive their diploma on the day of commencement.
All policies, rules, and regulations of Cobb County School District and Allatoona High School will be enforced during the rehearsals and ceremony.
We ask the cooperation of all who attend commencement to make this a dignified ceremony. Please refrain from inappropriate noise that might detract from the dignity of the ceremony.
All CCSD (Cobb County School District) venues are tobacco free, whether inside or outside. This includes, but is not limited to, cigarettes, cigars, pipes, all forms of smokeless tobacco, clove cigarettes, and electronic nicotine delivery systems.
---
Commencement Entry
Tickets:

All guests attending commencement, including babies and small children, will need a ticket to enter the venue.
Each senior must submit a ticket request for the number of guest tickets that he or she would like to receive. Requests for guest tickets MUST be made online using the Student Portal. The final day to request tickets is March 24th.
Requests will be evaluated so that each senior will receive the greatest number of tickets possible; however, seniors may NOT receive all the tickets that they request.
Graduates will receive their tickets at the conclusion of practice on May 25.
Tickets will not be provided to students who do not participate in the ceremony.

Parking:

A limited number of handicapped parking spaces will be available in the lot adjacent to the gymnasium. Previous notification of accessibility parking is required for all who do not have a handicapped parking tag.
Guests may park in the available spaces on either side of the campus. The faculty and staff will be at hand to help assist with parking that morning.

Bag Check:

The CCSD Police Department will provide officers for inside and outside security. Bag checks may be conducted by the CCSD Police Department as warranted. Please do not bring any packages that cannot be opened or inspected. Also, please allow extra time for entry as there may be delays.
If packages are gift-wrapped, public safety personnel must remove the wrapping paper for inspection.
Balloons, posters, selfie sticks, and camera tripods or monopods are not permitted in Buccaneer Stadium. In addition, any object which obscures the view of others or impacts the safety of others is not allowed in the venue.
---
Diploma Distribution
At the conclusion of the ceremony, graduates will recess out of the stadium and report to the anchor in front of the school for the ceremonial cap toss. At the conclusion of the cap toss, students will report to the auxiliary gymnasium.
Students will meet their homeroom advisor or designee in the auxiliary gymnasium to pick up personal belongings as well as their diploma. Students who are not participating in the graduation ceremony will be able to pick up their diploma from the counseling office during counseling hours over the summer.
---
Commencement Photos
Guests are to remain in their seats throughout the commencement ceremony. Only hand-held cameras that do not block the view of other guests may be used.
Guests may not walk into the aisles to take photographs.
We have arranged for Cady Studios to take an individual photograph of each graduate. Cady Studios will mail each graduate a proof of this photo and ordering information.
---
Additional Information
PARTICIPATION IN THE COMMENCEMENT CEREMONY IS OPTIONAL AND A PRIVILEGE. STUDENTS MUST MEET ALL EXPECTATIONS AND REQUIREMENTS IN ORDER TO PARTICIPATE IN THE COMMENCEMENT CEREMONY.
Students are identified as honor graduates if they have a minimum, unrounded 3.500 GPA (Grade Point Average).
Graduates offered scholarships should bring the scholarship letters to the School Counseling Office as they are received.
To be considered for a community service medal, all hours must be turned in to Mrs. Harmon in the front office by Friday, May 5.
The School Counseling Office will be closed Monday, May 22, and Tuesday, May 23, so counselors can verify the graduation status for all seniors. One of the counselors will contact you if there are any problems with your grades.
Final report cards will be available in StudentVUE by Tuesday, May 23. You will need to request a final transcript for your college. Final transcripts are NOT mailed automatically - you must request that one be sent. The cost is $2.00 per transcript request. This may be done any time between May 1 and May 12.
If you have questions, please contact:
Congratulations and enjoy the remainder of your senior year!
---
ALLATOONA HIGH SCHOOL
Class of 2023
IMPORTANT DATES
March 24
Last day to request commencement tickets (directions)
New this year - Request tickets via Cobb Student Portal. Once tickets are allocated, graduates and parents or guardians will be notified the number of tickets granted via the Student Portal.
April 26
Senior Picnic
3rd block on lower practice fields. Details TBA. Buc Pass holders only
May 5

Community Service Forms Due

Turn in to Mrs. Harmon in the Front Office

Community Service hours are NOT required to graduate. Those who participated in community service related to Allatoona or one of our feeder schools are eligible for a medal. Forms should have already been filled out and signed prior to turning in.

150 Hrs.=Gold 100 Hrs.=Silver 50 Hrs.=Bronze

May 5
College acceptance letters and scholarship award letters due
Turn in a copy to the counseling office prior to this date.
May 12

Via mail or dropped off in person

Students will receive their letters at Starlight Senior Night event on May 18.
May 12

Yearbook Distribution



May 16

Senior Exams

1st -2nd block review

3rd -4th block exams

They are expected to follow the regular bell schedule and take finals in 3rd and 4th block classes.

This is a full school day!

May 17

Senior Exams

1st – 2nd block exams

Mandatory Senior meeting in auditorium immediately following 2nd block. (Checkout list with outstanding items shared)

No 3rd and 4th block this day. ½ day only

Students are expected to leave campus immediately following the Senior meeting.

May 18

Starlight Senior Night on the Green

Buccaneer Stadium

This event is ONLY for seniors! -Buc Pass free. Everyone else $25

May 21
Baccalaureate-hosted by Allatoona PTSA

Cedarcrest Church

3:00 PM

Five (5) guests per Senior allowed

Last Week of School ~ May 22nd - 24th ~ Half-Day Schedule for Underclassmen
May 19-23

Senior Walks @ Elementary and Middle Schools

Note - The elementary schools chose the dates and times, not Allatoona



Bullard ES - May 19th at 12:30 PM


Ford ES - May 19th at 1:15 PM - Sign Up for Ford Senior Walk
Frey ES - May 19th at 8:00 AM - Frey Walk Info


Lewis ES - May 23rd at 11:45 AM


Pickett's Mill ES - May 23rd at 8:30 AM - Invitation and RSVP to PMES
McClure MS - May 19th at 10:00 AM
See AHS Senior Page for more details as they become available


May 24
Mandatory Senior Check-out and
Mandatory graduation practice
9:00 am as you enter stadium. All senior fines, fees, and required documents must be resolved by this date. Checkout must occur for students to receive graduation tickets, cords, etc. Park behind home stands at stadium.
May 25
Mandatory Graduation Practice
Stadium; 9:00 am; park behind home stands at stadium.
May 26

Graduation

Students arrive 7:15 - 7:30 am. Must be in proper graduation attire to participate. Students who are late will not be allowed to walk.
For additional information and updates, please check our commencement link on the school web site: https://www.cobbk12.org/allatoona/page/578/graduation