Wellstar Supports Developing Future Healthcare Professionals at Cobb Innovation Technology Academy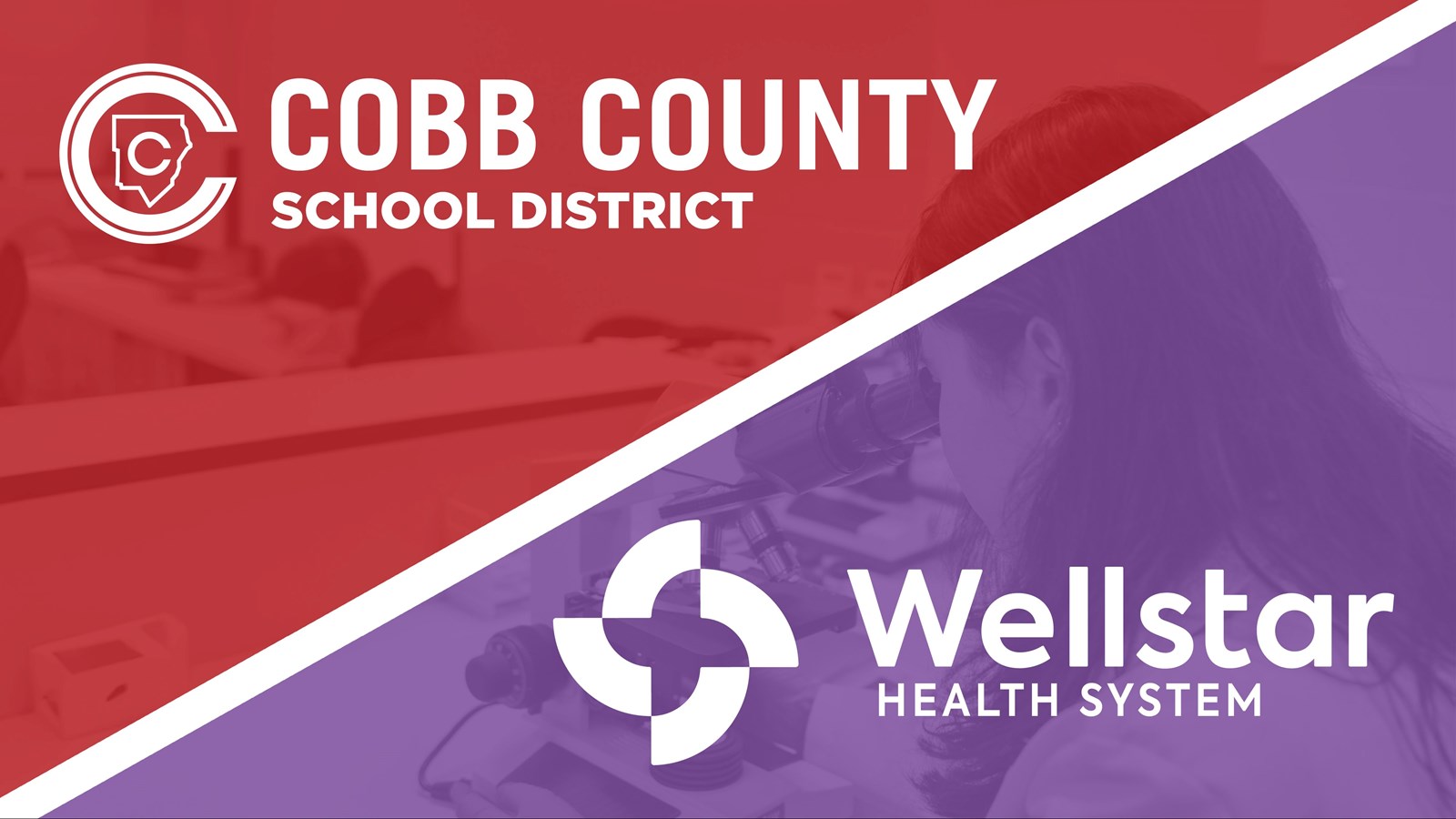 Cobb County, Nov. 13, 2023 – Creating healthcare career pathways for students is a critical community need in Cobb County, metro Atlanta, and throughout Georgia. To help meet this need, the Cobb County School District and Wellstar Health System are introducing high school students to healthcare careers through the healthcare pathway at the Cobb Innovation Technology Academy (CITA). CITA is an innovative Career, Technical, and Agricultural Education (CTAE) program inside the Cobb County School District (CCSD).
The partnership, which is brought to life with collaborative support from the Cobb County Schools Foundation and the Wellstar Foundation, empowers aspiring healthcare professionals through the Wellstar Healthcare Pathway Program at CITA. All CCSD students can apply for the opportunity to enroll in CITA, which serves as one of the District's seven magnet programs. Once enrolled, the Cobb students will be able to:
Participate in the new Wellstar Healthcare Pathway Program
Access cutting-edge equipment and technology
Engage with Wellstar clinical team members and professionals before they graduate from high school
Apply for two college scholarships funded by Wellstar
The Wellstar Healthcare Pathway Program represents a significant milestone in the pursuit of excellence in healthcare education. Through this collaboration, the Cobb County School District and Wellstar are working together to build a strong pipeline of skilled healthcare workers equipped to meet the evolving demands of the community.
David Jones, Executive Vice President and Chief Human Resources Officer for Wellstar, expressed enthusiasm for the partnership, stating, "This program seeks to inspire, educate, and nurture the next generation of healthcare professionals. We're thrilled with the opportunity to help enhance the education of our community's students and offer them rewarding career pathways."
The Wellstar Healthcare Pathway Program is more than a financial investment in the community; it is a commitment to providing students with career pathways and filling the community's need for healthcare workers. By providing the latest equipment and technology, Cobb students will be better prepared to navigate challenges and innovations in the healthcare sector. Additionally, Wellstar caregivers will help bring these healthcare learnings and experiences to life for Cobb students by providing invaluable insights and mentorship throughout the program.
Investing in students who will become the future of our healthcare workforce aligns with Wellstar's mission to deliver personalized care that considers each individual's unique life story. Wellstar believes in a similar approach when it comes to supporting and nurturing its staff. They have created a culture that encourages personal fulfillment for employees, empowering them to pursue their specific career goals and well-being. This commitment to staff development and personal growth is extended to the community through partnerships like the Wellstar Healthcare Pathway Program.
The Cobb County School District is excited to name the healthcare pathway at CITA in honor of Wellstar's financial commitment of $2 million from Wellstar Health System and the Wellstar Foundation. The partnership will also award two CITA students each year with a $2,500 college scholarship to help them pursue further education for a career in healthcare. Additionally, Cobb students will have direct access to healthcare professionals from Wellstar, who will make their classroom experience more practical and prepared for their real-world jobs. This collaboration is a testament to the commitment of both organizations to invest in the future of healthcare, fostering a new generation of dedicated and well-prepared healthcare professionals.
"The Healthcare Pathway at CITA is another example of the innovative opportunities we provide Cobb students. We are thankful that Wellstar has joined our team to prepare students for success after graduation. Together, we will help transform today's students into tomorrow's healthcare professionals and leaders," said Cobb Schools Board Chair Brad Wheeler.
For more information about the Wellstar Healthcare Pathway Program and the partnership between the Wellstar Foundation and the Cobb County School District, please contact Felicia Wagner at 770-426-3390.
About Wellstar and the Wellstar Foundation
At Wellstar, people are at the center of everything we do. We are nationally recognized for our personalized care approach, inclusive culture, and exceptional doctors and team members. We provide access to compassionate, high-quality care that meets each person's unique health needs through our: 11 hospitals; 325+ medical office locations; 11 cancer centers; 91 rehabilitation centers; 35 imaging centers; 18 urgent care locations; 5 health parks; 3 hospice facilities and one retirement village. As a nonprofit health system, we thoughtfully reinvest in preventative care and wellness programs and serve our community as one of the largest providers of uncompensated care in Georgia. To learn more, visit wellstar.org.
Through corporate and community partnerships, the Wellstar Foundation fuels innovation and action to address the vital needs of diverse communities in Georgia. As the philanthropic arm to Wellstar Health System, the Foundation is transforming healthcare by enhancing health equity, innovation and technology, behavioral health, and workforce development. Every dollar donated funds the mission and initiatives addressing the most pressing healthcare needs in Georgia. To learn more, visit wellstar.org/foundation.
About Cobb County School District
The Cobb County School District (CCSD) is the second-largest school system in Georgia and the 23rd-largest in the nation. It serves 106,358 students with 112 schools, including 66 elementary schools, 26 middle schools, 17 high schools, one charter school, one special education center, and one adult education center.
The District's mission is One Team, One Goal: Student Success, and it frequently adds organizations like the Wellstar Foundation to its team to enhance educational experiences and prepare students for successful futures.
About Cobb Schools Foundation
The Cobb Schools Foundation is the philanthropic arm of the Cobb County School District, with a collaborative mission to take student success to new heights. Achieving these goals takes a tremendous team that includes leadership, teachers, social workers, many other staff, and our community!