McEachern Football and Pope Fastpitch Have October Coaches of the Month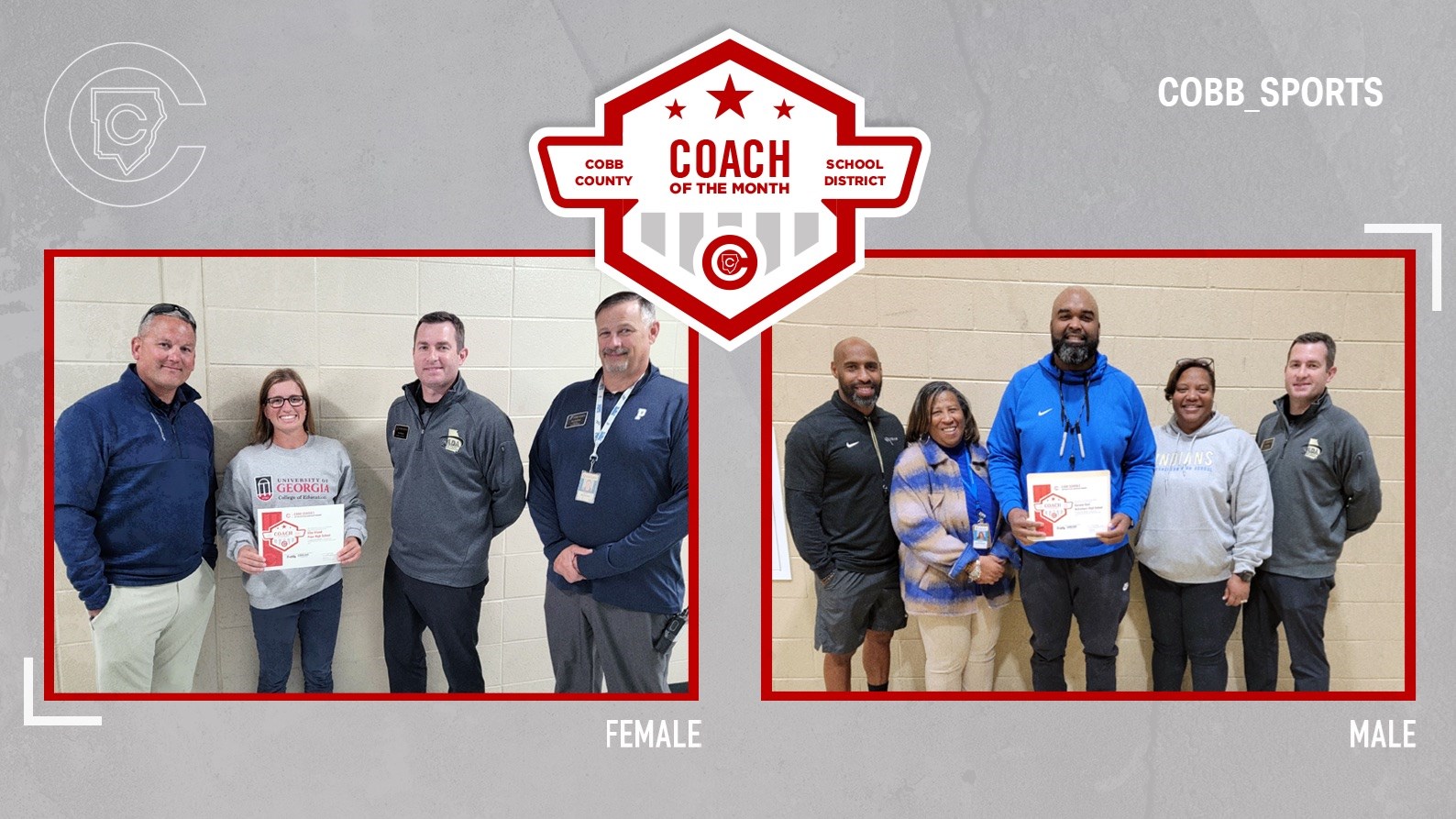 The Cobb Schools' Athletic Department has selected the latest Coach of the Month (COM) winners. The COM award highlights a female and a male coach doing exceptional work in the District.
In conjunction with the Atlanta Braves and Good Game Atlanta, the winners receive a complimentary one-night stay at Aloft Atlanta at the Battery and dinner from Good Game Atlanta.
"This is a small token of our appreciation for their efforts both on and off the court," said Cobb's Director of Athletics, Don Baker. "Coaches teach a full day, and their days are only half-over when the bell rings at 3:30. They continue to work with our student-athletes for hours each week, often at the expense of their own spouses and children. We believe we have the best coaches in the state and want to celebrate them as much as possible!"
The October winners are head coaches from McEachern and Pope. Kareem Reid coaches football for the Indians, and Elizabeth Viland coaches softball for the Greyhounds.
Kareem Reid, McEachern, Football
First-year Indian head coach Kareem Reid has had a remarkable season so far. After starting their schedule 0-4, the team has won its last seven games and the Region 3-7A championship. The Indians are one of only two Cobb Schools teams left in GHSA postseason play, hosting a second-round game against Camden County this Friday (11/17). Coach Reid is a 16-year coaching veteran, most recently at the collegiate levels at the University of Florida and the University of Central Florida.
Before the season began, Coach Reid said: "I think this team has a lot of potential. If we stay healthy, we've got a chance to shock a lot of people." After four losses, many around the state had written McEachern off, but the Indians were just getting started. Coach Reid's prediction about shocking people has come true in a big way.
"I can't say enough about Coach Kareem Reid!" said Indian Athletic Director Myra Camese. "He and his coaching staff have put in countless hours to change the culture of success for our football team. In our many meetings to get him acclimated to the McEachern Way, he has a clear understanding of the mission and has executed every step of the way. We went from worst to first in 8 months!"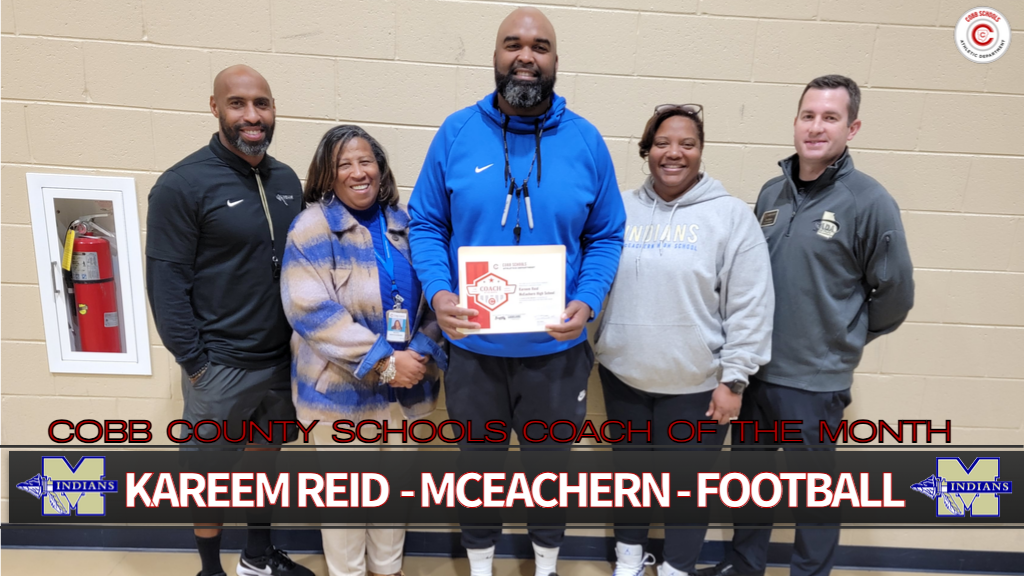 Ellie Viland, Pope, Softball
Although a disappointing loss to Newnan in the finals concluded the Greyhounds' 2023 season as 6A state runner-up, Coach Viland has built the program into one of the best in the state. The Greyhounds have played in the championship game five out of the last six seasons and won the 2022 6A state title under Coach Viland's direction. They also won the 6A championship in 2019. Coach Viland has amassed an astounding 111 wins and three region championships in her three years as head coach. She is also an assistant coach for the Tennis team.
"Coach Viland exemplifies everything we want in our teacher-coaches," said Pope Athletic Director Josh Mathews. "She prioritizes the classroom and her teaching. She delivers instruction in a rigorous yet comprehensible way. She brings tremendous added value beyond the classroom as a coach, mentor, and advocate for our athletes. And at any given event throughout the year, you can find Coach Viland cheering on her students and all the other Greyhounds."
"Ellie joined our softball staff as a community coach while she finished her degree at UGA. Upon graduation, she joined our staff as a teacher and took over the softball program three years ago. She makes the job of an administrator easy because you know she will always do the right thing. Coach Viland is a great role model for our young ladies as she has loved the life that our athletes are currently living. She knows what is needed to achieve excellence as a student-athlete at Pope High School," AD Mathews said proudly about his Coach of the Month.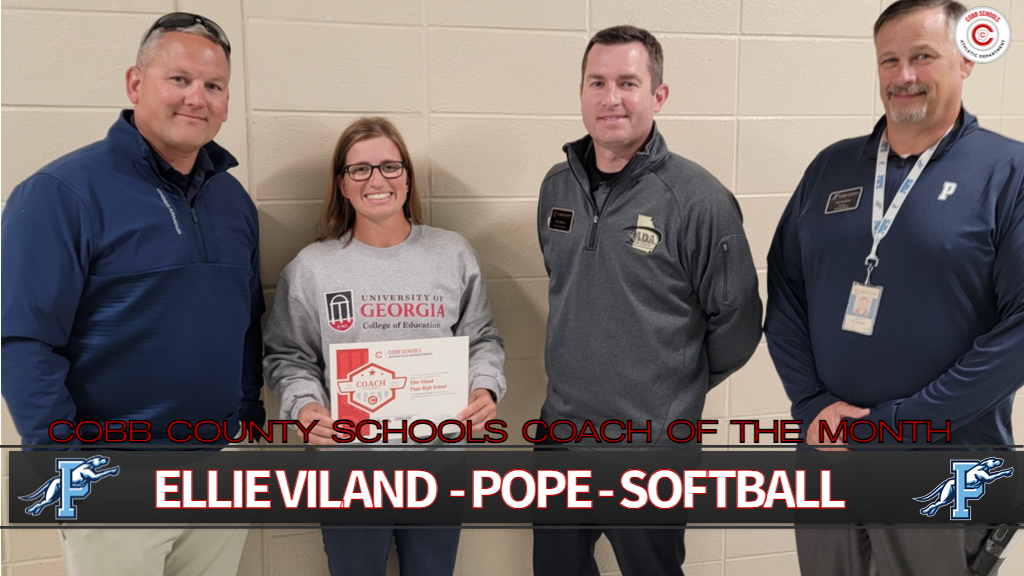 Congratulations, Coaches Reid and Viland, for being recognized for your outstanding efforts on and off the field! McEachern and Pope are lucky to have such great mentors for their student-athletes. Great job!