Thank you! Schools Across Cobb Honor Veterans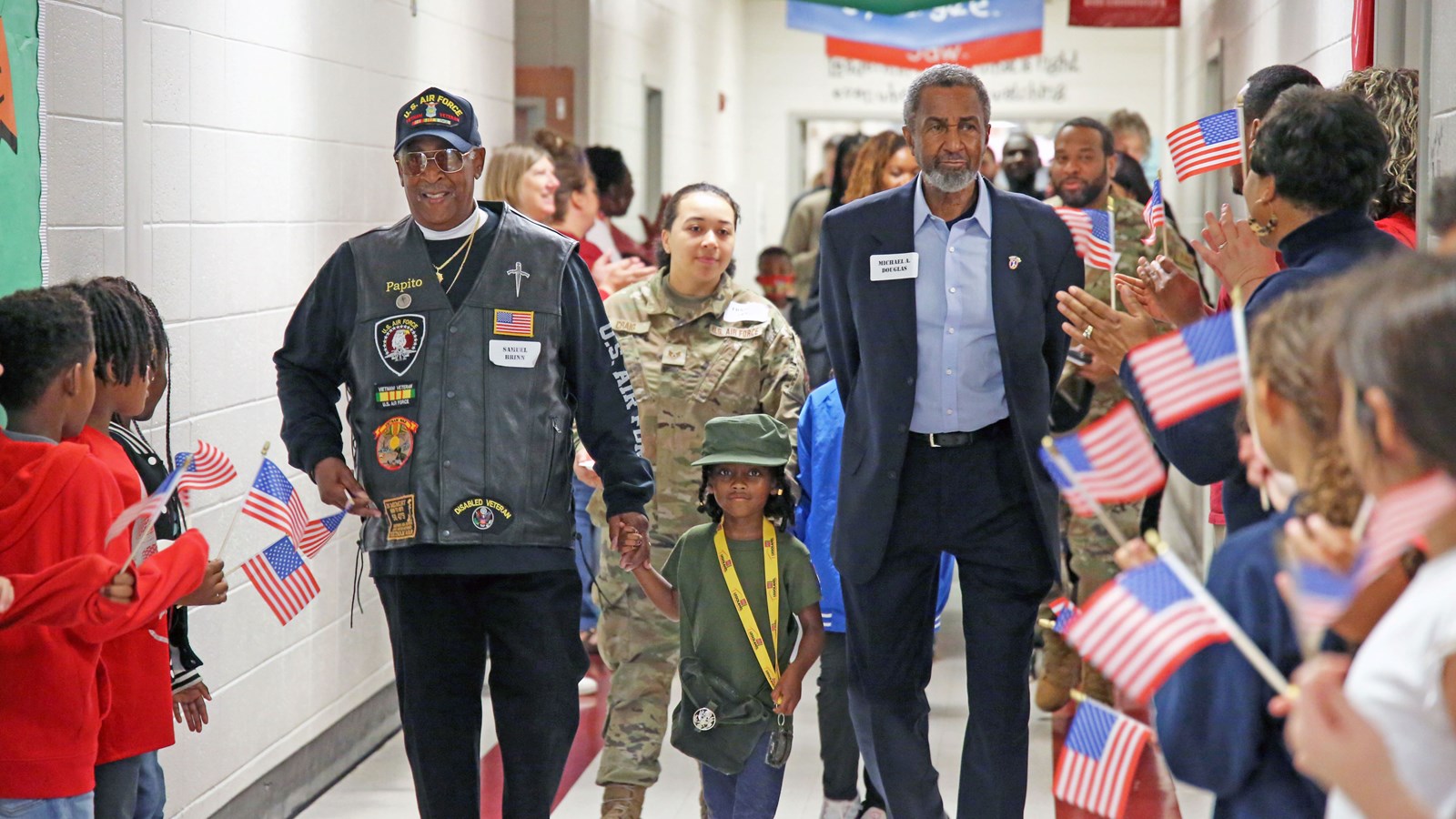 Musical performances, parades, can't-resist breakfasts, and many "thank yous" welcomed military veterans at schools across Cobb.
Still Elementary School welcomed about 140 veterans for breakfast, a short program, and a parade around the school with students waving flags and cheering for the honored guests. The school also included a "Wall of Honor" that included a collection of photographs submitted by students of their veteran family members in uniform, highlighting their most exciting duty stations from around the world.
"Every table was full of veterans who gathered as strangers, but left as family," said Still PTSA board member and event organizer Darilyn Thompson. "My favorite part was hearing each attendee introduce themselves and the branch cheer for a brother or sister in arms. It was humbling how many combined years of service was in that room and to give each veteran the chance to remember that they're not forgotten. It was absolutely amazing."
"This is my first year at Still, and was my first experience being part of such a special outpouring of love for our Veterans. Every detail was well thought out from start to finish. My hope is that the Veterans truly know how much they are appreciated by the Still community," agreed Assistant Principal Karen Osterhoudt.
"We are grateful for all our military veterans. They put service to others ahead of themselves so that our children and grandchildren can continue to thrive in the land of the free and the home of the brave. To our Cobb parents, grandparents, teachers, board members, former students, and community members who have served, I say, 'thank you,'" said Cobb Schools Board Chair Brad Wheeler, who attended the Veterans Day tribute at Still.
Ford Elementary School, like many schools across Cobb, has a history of honoring those in the community who have served. Ford's Veterans Day events typically welcome over 100 veterans and are led by military kids and include the Harrison High School NJROTC, a Table of the Missing Soldier, a Wall of Honor, schoolwide parade, and breakfast.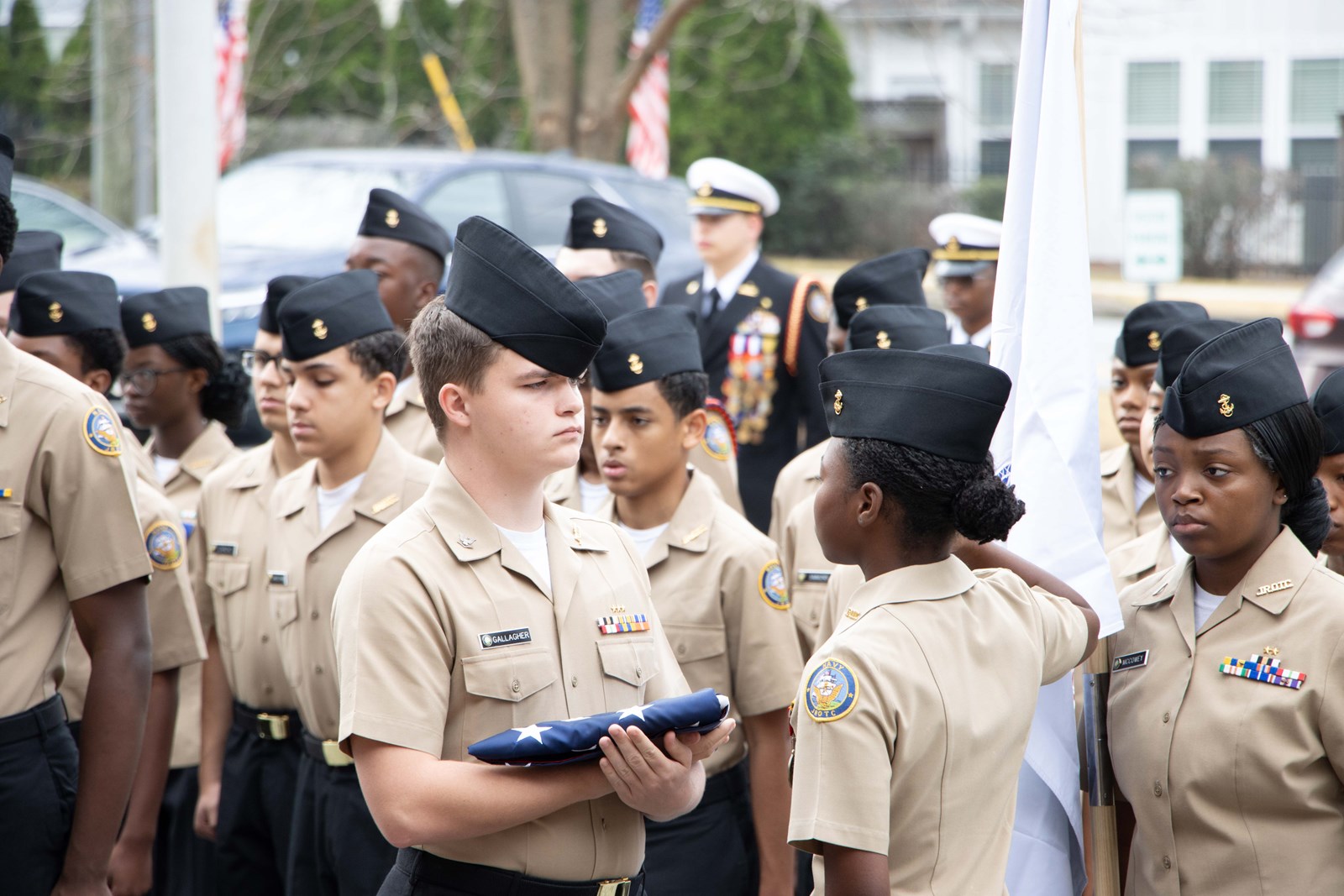 Flags lined the sidewalk, and songs for each branch of the U.S. Armed Forces rang out as students and staff gathered outside North Cobb High School to pay tribute to all those who have served. As part of the school's ceremony, the North Cobb JROTC also conducted an Old Glory ceremony. The high school cadets also made sure to remember those service members listed as prisoners of war (POWs) or missing in action (MIA).
Argyle Elementary School's Veterans Day celebration kicked off with a breakfast followed by a school-wide parade. The school's Cub Scouts presented the colors, while the Argyle chorus presented a soul-stirring musical performance.
Veterans packed the room at Kemp Elementary School as students honored them with a special performance. The students sang classic patriotic songs like "You're a Grand Old Flag."
Like many other schools, veterans were treated to breakfast at Davis Elementary School, which also held a ceremony and parade in their honor.
Some other Cobb Schools that held Veterans Day celebrations include Austell Elementary School, Baker Elementary School, Bryant Elementary School, East Side Elementary School, Kennesaw Elementary School, Pickett's Mill Elementary School, and Rocky Mount Elementary School, among others.
Not all the Veterans Day tributes took place during school hours. The Lassiter High School Veterans Day performance was so well received by the community last year that this year, Lassiter moved the concert to a location that could accommodate more community members. The Lassiter Veterans Day Concert is scheduled for November 10 at 7 p.m. at Johnson Ferry Baptist Church and will once again include both Cobb students and the 116th United States Army Band.
Schools, like Fair Oaks Elementary School, did not have to look very far for veterans to honor. Fair Oaks Principal Cathie Seibert, like many Cobb staff members across the District, began her life of service as a soldier in the U.S. Army.