Dowell ES Teacher, Julie Brackett, Honored with Read 180 Educator Award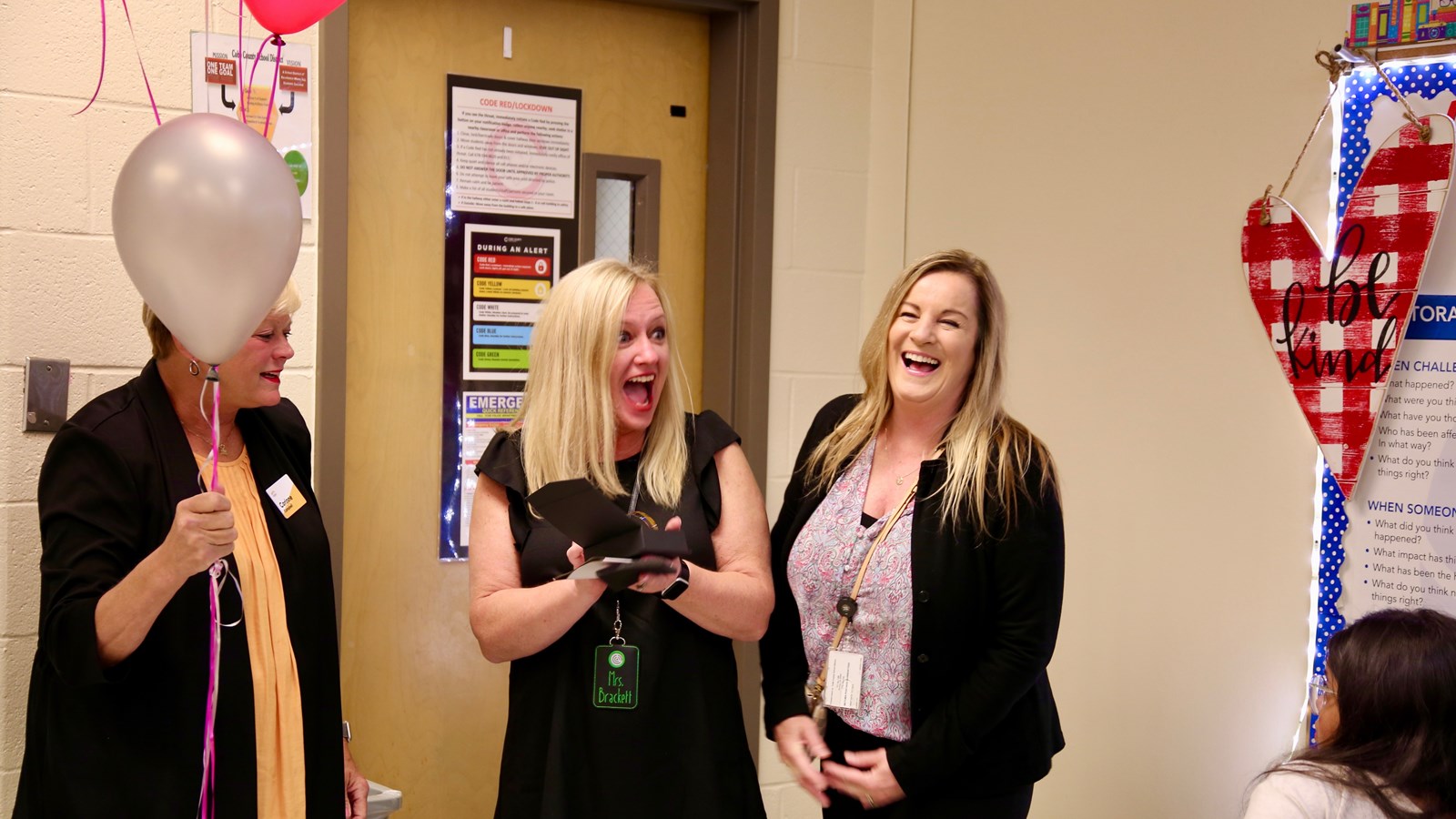 Winning an award is always exciting for a teacher, especially when it's for excellence in the classroom. Dowell Elementary's Julie Brackett was recently recognized as one of only 21 nationwide winners of the Read 180 Educator Award. She was one of eight elementary teachers and one of only two in Georgia. It is a very rare honor indeed.
The Read 180 Educator Award is for educators with an exceptional commitment to improving students' lives. It honors remarkable teachers who demonstrate that it's never too late to open new doors to academic success. These educators exemplify unwavering dedication, with a focus on helping striving students overcome personal and academic obstacles.
"I am so honored to receive this award!" said the fifth-grade teacher when she was surprised by her principal, Christine Dinizio, with the award. "I truly believe in the Read 180 and System 44 Programs. They continue to help my students improve their reading skills daily. My students deserve this award as much as I do, they put in so much effort every single day."
"Not only is Ms. Brackett an outstanding Read 180 teacher, but she was also nominated by a peer for an award. And guess what? She won!" Principal Dinizio said to the class as they responded with cheers and applause.
"Each finalist is evaluated based on personal recommendations and statements, as well as data demonstrating student growth in reading or math," explained Cathy Goetz, Cobb Schools' Consultant for Personalized Learning. "Julie Brackett is one of only two educators in Georgia—and the only one in Cobb—to win this award."
READ 180 winners have inspired struggling students to make great strides in reading and math using READ 180, MATH 180, and System 44, intervention programs that use adaptive technology and teacher tools to personalize instructing and accelerate growth. Ranging in age, background, and geographic location, each educator has made it their mission to ensure that all students, including those who have fallen behind due to social and academic obstacles, have the opportunity to succeed in the classroom and in life, regardless of circumstances.
A dramatic example of the effectiveness of the Read 180 program and Ms. Brackett's enthusiastic endorsement of it was highlighted last year by Houghton Mifflin Harcourt, the creator of the Read 180 curriculum. Jaleah was a student in Ms. Brackett's fifth-grade class and was having a hard time remembering what she was reading. After beginning Read 180 in her fourth-grade year, Jaleah's lexile score improved from 415 (below basic) to 736 (near proficient) in only two years. "She is definitely on her way to becoming a lifetime learner!" said her proud award-winning teacher.
Ms. Brackett uses a Book Board mounted to her classroom wall to motivate the students and keep track of the books they have read. She recently had to add an additional board since some of her students were reading well beyond the required number of books. Some readers in her class have read more than 60 books!
"My favorite part is watching each student reach their 180, which means going from learning to read to reading to learn," Ms. Brackett said happily about her young learners. "They are definitely turning into lifetime readers!"
Congratulations to Julie Brackett and her fifth-grade readers for this fantastic achievement and recognition. We look forward to watching these students excel as they continue their primary and secondary educations with a great foundation and a love for learning and reading. Well done!
The Book Board
The Extended Book Board