Class of 2023 Raises the Stakes with Impressive Graduation Numbers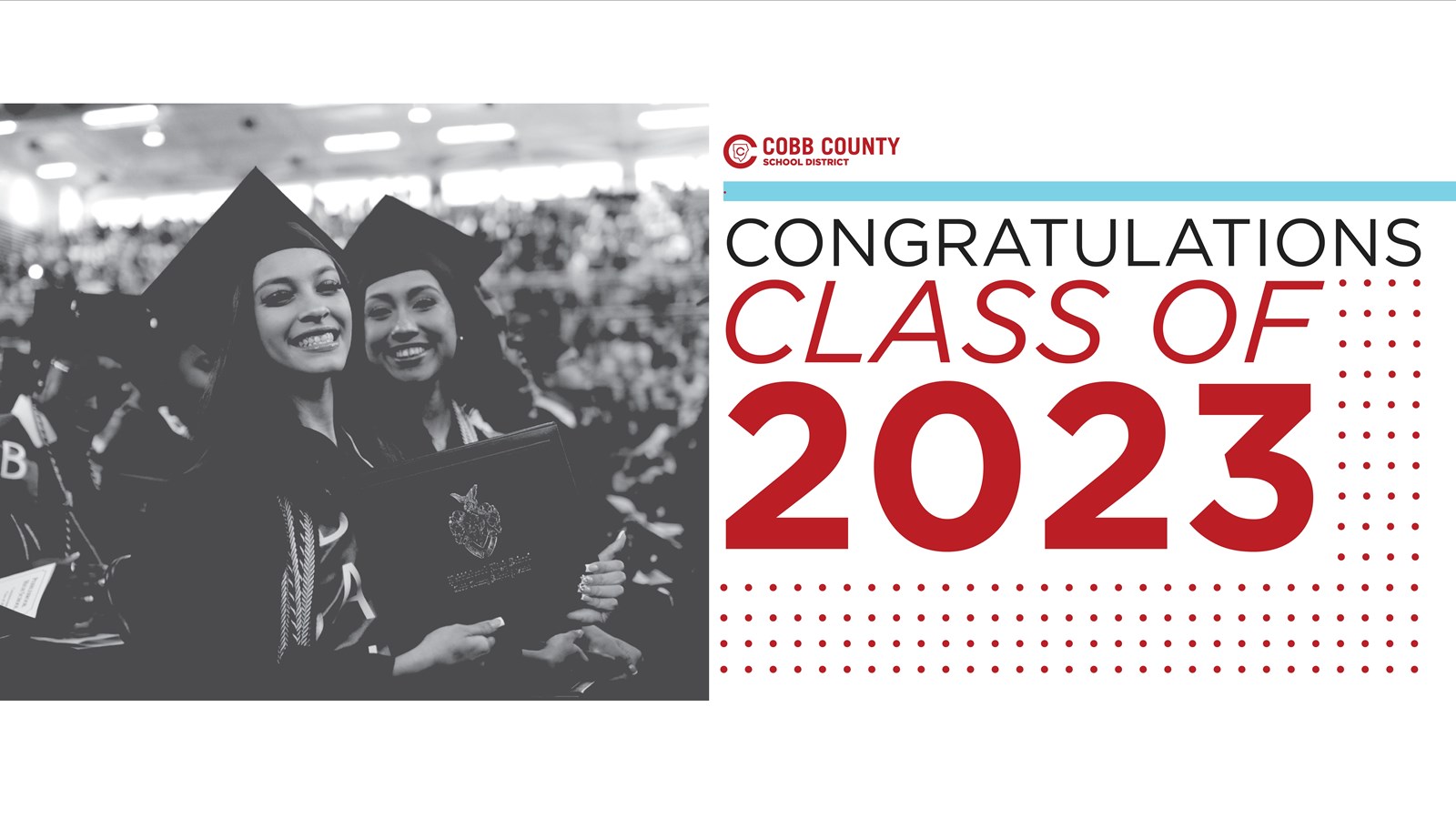 Last week, families, educators, and school communities around Cobb celebrated the graduation of 8,286 students, 149 more than last year.
Cobb Schools' Class of 2023 earned nearly $135 million in scholarships, $134,290,594, to be precise! This amount dwarfs last year's total of $106 million.
These resilient 2023 graduates finished their freshman year at home, sheltering in place due to the pandemic. Despite a sophomore year filled with uncertainty and virtual learning, they worked hard and enjoyed relatively normal junior and senior years in classrooms.
Over 200 students in this class will join the military or head to a military academy. Thirty-five qualified as National Merit finalists, 11 won a $2500 scholarship, two won corporate scholarships, and one senior won the prestigious Presidential Scholar award.
"The Class of 2023 is an impressive group of graduates," said Board of Education Chair Brad Wheeler. "Thanks to the Superintendent's decision to get students back into classrooms sooner than other school districts and provide educational choices for families, Cobb Schools weathered the pandemic much better than most around the country. This entire graduating class is the proof of that."
6,427 (78%) of the graduates have plans to attend college or a trade school after leaving high school. Universities and colleges in Georgia were obvious popular choices. Berry College, Emory, Georgia Tech, KSU, Mercer, Oglethorpe, and UGA were among the top in-state picks for the Class of 2023. Many students chose to go out-of-state to places like Alabama, Auburn, Michigan, Northwestern, Michigan, South Carolina, and Stanford, to name a few. In short, Cobb's Class of 2023 will be spread all over the country.
The accolades for these graduates are too numerous to mention. Still, a few highlights include QuestBridge scholarships, ROTC Scholarships, full-ride scholarships of many sorts, Rhodes scholarships, Pace and Posse academic scholarships, Amazon and Chick-fil-A corporate scholarships, Kiwanis and Cobb Schools Foundation scholarships, and STEM and STAMPS scholarships. In addition, many student-athletes earned full-ride sports scholarships in dozens of sports. Several graduates will be attending Ivy League schools to further their education.
The Class of 2023 includes region and state-champion athletes. They raised thousands of dollars for charitable causes. They competed in and won STEM and robotics competitions. They received fine arts diploma seals, community recognitions, visual arts, and music awards. They earned thousands of dual-enrollment credit hours and traveled all over the world, including Japan! Not to mention the many inspiring stories of adversity and perseverance they displayed in these inspirational examples.
The 17 valedictorians in the Class of 2023 tallied an astonishing average GPA of over 4.7, and the salutatorians were close behind with an average GPA of 4.67. Six valedictorians and two salutatorians posted GPAs above 4.8. Six valedictorians and six salutatorians earned GPAs above 4.7.
As if all that wasn't enough, the Class of 2023 also gave back to their communities. Over the course of their high school careers, they racked up more than 100,000 hours in community service and volunteering.
Well done, Class of 2023! You have set the bar high, indeed. Good luck in all your future endeavors and plans. We know you will continue to impress and make a difference everywhere you go. Thank you for representing Cobb Schools well and leaving such a lasting impression on those around you.