Board Approves FY2024 Budget and Another Generous Raise For All Full-Time Employees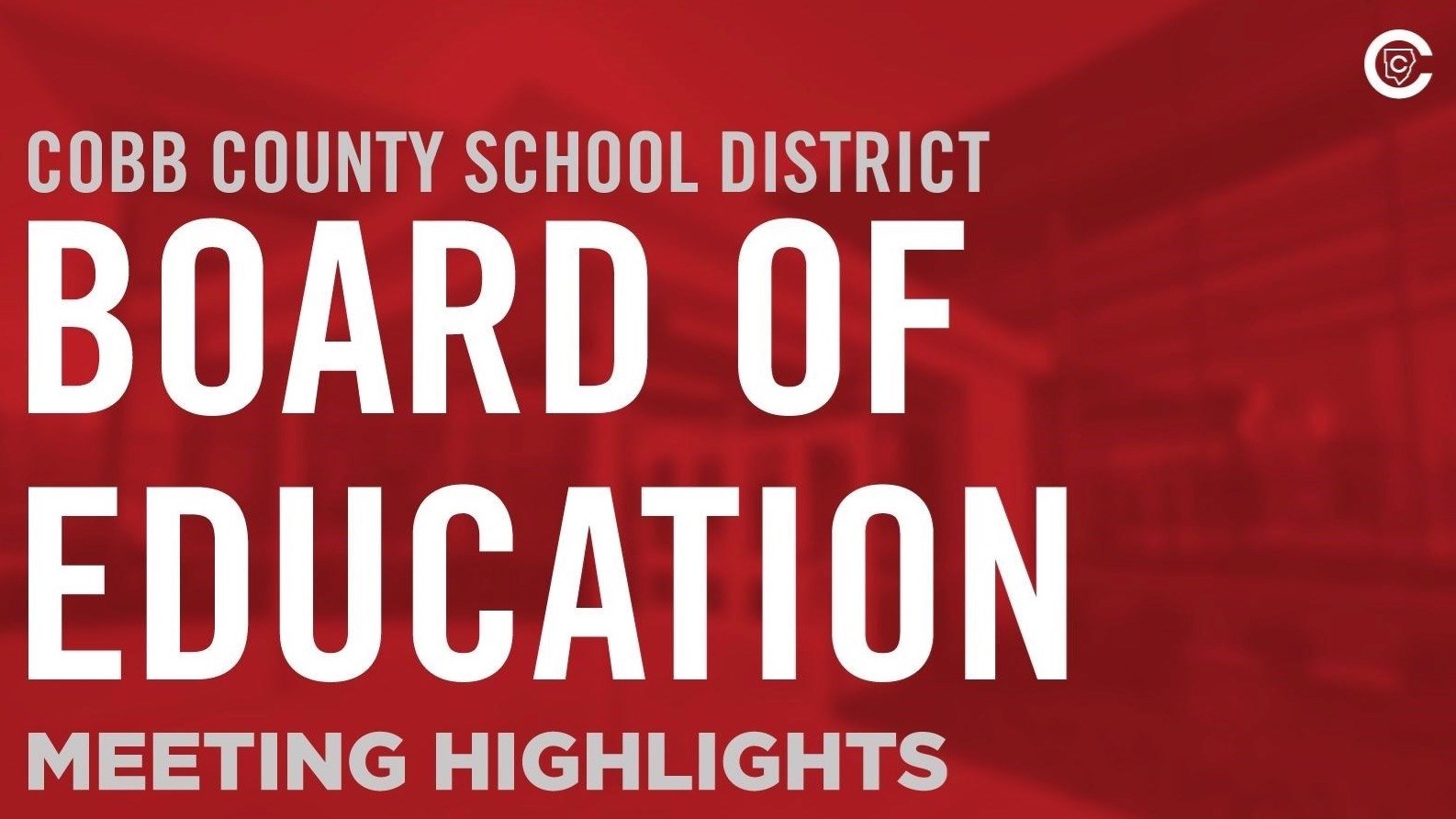 For the second year in a row, Superintendent Chris Ragsdale proposed, and Board members approved, a healthy raise for all full-time staff members.
Thanks to the Board of Education's approval of the FY2024 Budget, which prioritizes students and staff, ALL non-temporary employees in Cobb Schools will receive a 7.5-12.1% raise. Also benefiting Cobb County taxpayers, the FY2024 budget includes reducing the General Fund millage rate of .20 mills—from 18.9 to 18.7 mills. This is the first millage rate decrease since FY2007.
"I appreciate the support from all the Board members who voted to support this budget proposal. I know I speak on behalf of over 18k employees who appreciate the 7.5 - 12.1% raise. It is also certainly beneficial for us to make the proposal and the board agree to lower the millage rate," said Superintendent Chris Ragsdale.
Board Chairman Brad Wheeler echoed the Superintendent's thoughts, "Not only does Cobb have the best schools, we have the best financial team that can put together a budget like the one we just approved that both lower taxes for homeowners and also gives all full-time employees a fantastic raise. It is a pleasure to serve with a Superintendent that leads such a dedicated team of professionals who pay attention to every detail."

Additional Highlights for the Proposed FY2023 Budget:
• The FY2024 Tentative Budget is balanced
• FY2024 Budget Revenue: $1,448,937,972
• The District continues to maintain a AAA Credit Rating from 3 Global Credit Rating Services (Moody's Investor Service, Standard & Poor's, and Kroll Credit Rating Agency). The District is the only government entity or corporation in the United States with 3 AAA Credit Ratings.
• The District is transparent in all aspects of the FY2024 Budget and provides Cobb County citizens with all information regarding taxpayer funds. All budget information can be found on the district website.
• The Cobb County School District's finances are audited annually by a professional, independent auditor (Mauldin & Jenkins CPAs).
In addition to other Board business, the Board members voted on personnel updates, including new principals and new administrators. They also celebrated students and staff for success on the state and national levels.

Personnel Updates:
Maria Braswell: Appointment to Principal at Green Acres Elementary School from Assistant Principal at Nickajack Elementary School
Dr. Katie Derman: Appointment to Principal at Mountain View Elementary School from Assistant Principal at Pickett's Mill Elementary School
William Dryden: Reassignment to Principal at Sedalia Park Elementary School from Principal at Frey Elementary School
Laura Fiedler: Reassignment to Principal at Frey Elementary School from Principal at Sanders Elementary School
Tiffany Jackson: Reassignment to Principal at Sanders Elementary School from Principal at Sedalia Park Elementary
Kahliah Rachel: Appointment to Principal at Austell Elementary School from Assistant Principal at Sedalia Park Elementary School
Sherri Hill to Chief of Staff
Dr. Jasmine Kullar to Chief Leadership Officer
Adam Hill to Assistant Superintendent
Dr. Liss Maynard to Assistant Superintendent
Gretchen Walton to Assistant Superintendent

Board Recognitions:
• 2023 Helen Ruffin Reading Bowl State Champions, Book Blasters Reading Bowl Team – Kemp Elementary School
• 2022-2023 GHSA Class AAAAAAA Literary State Champion for Argumentative Essay – Lily Hurn, Hillgrove High School
• 2023 Joseph C. Gilliam Academic Achievement Award State Winner – U.S. Navy JROTC Cadet Alexis J. Gabriel, Hillgrove High School
• 2023 U.S. Navy JROTC Orienteering State & National Champions – Hillgrove High School
• 2023 U.S. Navy JROTC Drone Team State Champions – Hillgrove High School
• 2023 U.S. Army JROTC Female Color Guard State Champions – Osborne High School
• 2023 U.S. Army JROTC Drill Team State Champions – Osborne High School
• 2023 GHSA AAAAAA Boys' Soccer State Champions – Lassiter High School
• 2022-2023 Cobb County School District Athletic Director of the Year – Myra Camese, McEachern High School
• 2023 Georgia Athletic Directors Association Frank Kovaleski Professional Development Award – Don Baker, Cobb County School District Director of Athletics
• 2022-2023 American Heart Association Fundraising National Champions – Cobb County School District