Kell Basketball Scores a Double-Double with Two State Titles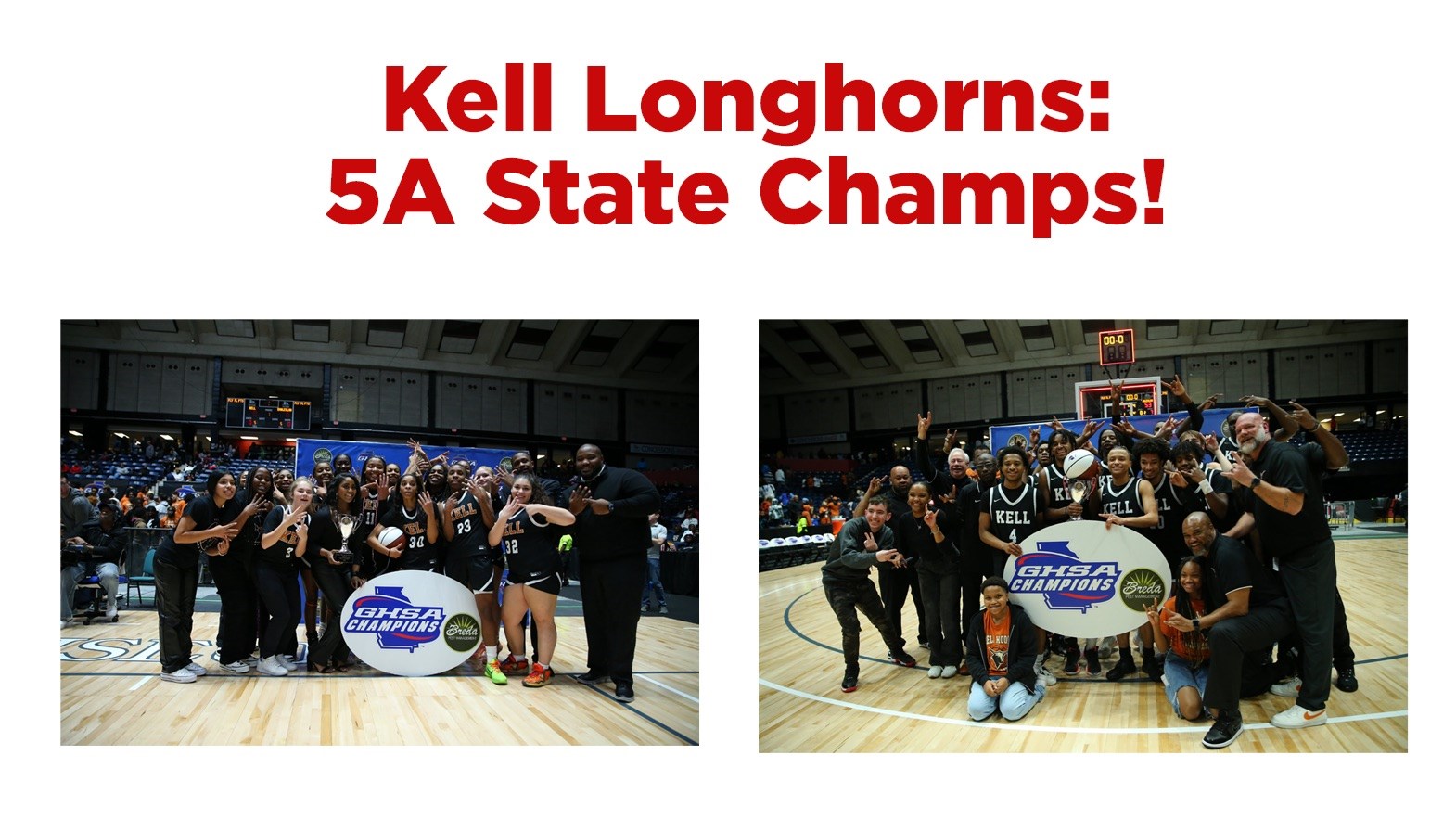 History was made last night at the Macon Coliseum. For the first time in school history, Kell basketball won its first state championship in basketball... twice. The Kell Ladies beat Warner Robins in the 5:30 PM state title game to claim the trophy, and two hours later, the Kell Boys did the same thing, beating Eagle's Landing in the final 5A game of the season. It was a historic evening for Kell and the GHSA. One school winning both championships in the same year is rare.
"This is awesome," said boys head coach Jermaine Sellers, "just awesome. We're going to enjoy this for a while. A lot of people talk about Kell, but when you are finished talking about us, make sure you say State Champs!"
If anyone was paying attention to 5A basketball this season, last night's outcome should come as no surprise. Both programs dominated their schedules all year, even though both coaches scheduled tough national opponents early on to test their players.
"We lost the Final Four last year and wanted to make sure this year was different," said girls' head coach Kandra Bailey. "Our schedule was super hard. We wanted to make sure we were ready for any adversity that came our way. We had the goal of a state championship, and we were not going to take anything less."
Both teams were undefeated in region play—13-0 for the ladies, 12-0 for the boys—and Region 6-5A champs. The boys ended the season at 27-2 on a 15-game win streak, while the girls closed out the 2022-23 season at 26-5 with a 14-game streak of victories. Neither team lost a game at home all season. Winning is contagious at Kell.
For the ladies, it was redemption for 2020, when Kell took an equally impressive undefeated team to the 5A Finals and lost to a very talented Buford squad in the title game. For the freshman that season, it was motivation to finish strong and complete the goal. Jada Green, Jamiah Gregory, and Crystal Henderson were three of the freshman present in Macon for that 2020 title game. Three years later, they rewrote the script.
Henderson recently had her jersey retired at Kell, along with her older brother, Scoot. Crystal is Kell's all-time leading scorer, with more than 2300 career points. She added 29 last night, one shy of her now-retired jersey number of 30. Jamaiah Gregory added 14 points to the lopsided 57-36 victory over the Warner Robins Demonettes.
"I'm feeling so many emotions right now, but I'm mostly really happy," said Henderson in a post-game interview. When asked about all the accolades and the historic career she had as a Longhorn, she was overwhelmed. "It's an amazing feeling. You work so hard to be recognized for all your hard work. It's just amazing," said the Player of the Game with a broad smile.
The boy's Player of the Game went to junior C.J. Brown, who finished his night with 22 points. The Longhorns had to put together an 11-2 run late in the game to regain and keep the lead after falling behind by four points heading into the fourth quarter. The 61-53 victory was further evidence of just how cohesive this team is.
"We knew we had the guts to finish it," C.J. said. "We're a family. We gotta stay together. It was us versus the world."
Congratulations to Kell Basketball for an evening we won't soon forget! This is the first of many state titles for Kell Hoops, and we can't wait to see what the future holds for both programs. Hook 'Em, State Champion Horns!