Wheeler Student Wins Air Force JROTC Scholarship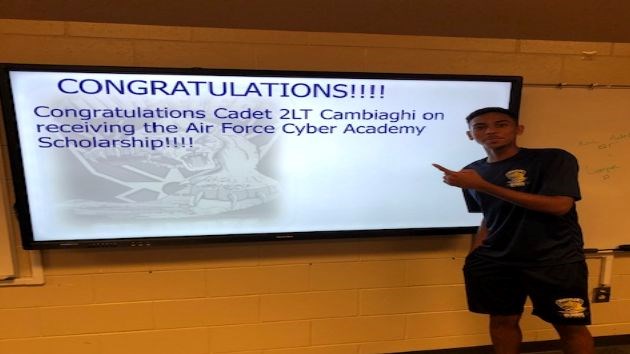 Only 132 high school students from across the nation were awarded a 2022 Air Force JROTC Cyber scholarship, and one of those students attends Wheeler High School. Vinicius Cambiaghi is a sophomore in Wheeler's Air Force JROTC program and is one of only four cadets in Georgia to win the scholarship opportunity.
"With about 800 Air Force JROTC cadets worldwide, this is really competitive. Cadet 2LT Vinicius Cambiaghi is one of the best! He is well-rounded and possesses great leadership abilities. He has also received multiple JROTC awards," said Wheeler Senior Aerospace Science Instructor Maj. Shon Dodson, USAF (Ret).
The U.S. Air Force JROTC scholarship provides students the opportunity to attend a Cyber college course virtually at one of five universities during the summer of 2022. The 8-week course covers Cyber Security and IT.
The scholarship funds one college course, which will award approximately three college credit hours upon successful completion and may allow the students to test for an industry-recognized IT certification (university dependent.)
The scholarship was awarded to AFJROTC cadets in grades 10-12. As part of their college-level course, students will be engaged in daily coursework, homework, discussions, and have opportunities to hear from prominent Cyber and IT professionals. Cadets will be evaluated on their performance, participation, and ability to complete required college coursework successfully.